MyThemeShop products are built for SEO and speed. Create beautiful and practical website with MyThemeShop themes & plugins and see what you have been missing out on.
Over a million websites call MyThemeShop their home and 520000+ users call MyThemeShop their family. MyThemeShop are a small but dynamic group of enthusiasts that want what's best for everyone's WordPress Themes.
Why MyThemeShop Themes?
1. A great user experience
Most other themes haven't put thought into making your job easy so that you can free your mind to what you do best: publish killer content.
2. Dedicated, knowledgeable support
Questions come up, it's perfectly normal, and unlike other companies, MyThemeShop don't keep you waiting for a reply and they
treat you like a customer, not an inconvenience.
3. Lightning fast load times
You've probably noticed...Attention spans are getting shorter and shorter. If your page doesn't load pronto, it's adios valuable visitor. MyThemeShop themes will have your users loving your site.
4. Compatibility
The've designed their code to respect your server's resources.
5. Optimum Performance
All of their themes are optimized for performance, following best practices. They use asynchronous loading to shave seconds off of render times.
6. Improved Productivity
They've eliminated unnecessary features that get in your way, reducing your productivity.
7. Clean Code
They focus on clean front end code that is user-friendly and search engine friendly.
WordPress Themes Made For You, The Perfect Solution for ANY Online Presence
1. Schema WordPress Theme
Schema is the fastest loading, ultra-SEO friendly WordPress theme. Featuring all the best MyThemeShop features, including our custom options panel, all our shortcodes and widgets, and a pixel perfect design, Schema also includes rich snippets in order to help search engines understand your site and rank you higher.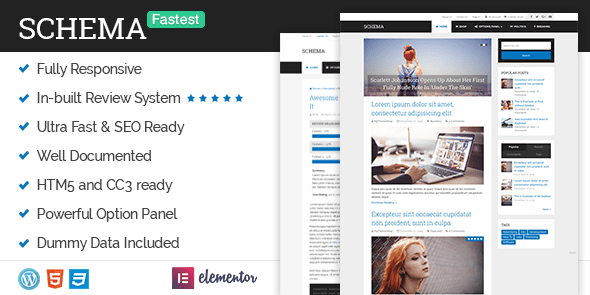 Here are few of the main features that put the Schema WP theme ahead of competition:
SEO Features
Secure, Lightweight Code
Easily Accessible Content
Fast Site Load Times
SEO Friendly Design and Code
Google Algorithm Friendliness
Clearly Identifiable Content and Media
Pages That Keep Users Reading
Builds Trust and Security in Google's Eyes
Built-in Reviews
Social Media Voting Functionality
Rich Snippets
Design Features
Shortcodes
All Google Fonts
2 Header Designs
2 Homepage Thumbnail layouts
Functionality
Responsiveness
HTML5 and CSS3 Markup
Demo Data Included
Easy Import
Ad Management
Translation Ready
Options Panel
Custom CSS Section
Is Schema Worth It?
MyThemeShop believe that the only way of succeeding is by doing it together. Their recipe is simple, they succeed only when you succeed.
2. SociallyViral WordPress Theme
SociallyViral is a beautifully designed WordPress theme that is built to be engaging, fast, and most importantly, boost viral traffic. With features to help increase social sharing, you'll get more traffic from the web's top social media websites and also boost your search engine rankings. This Viral WordPress Blog Theme Will Boost Social Shares, Traffic & Revenue.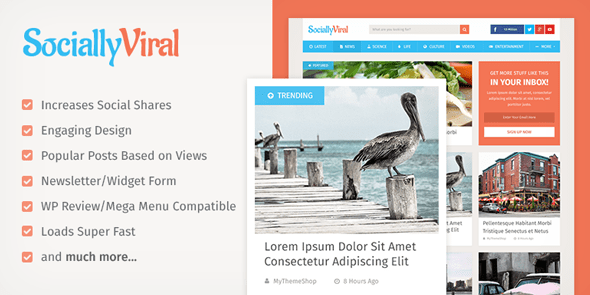 Features of  SociallyViral WordPress Theme:
Enable or Disable Prefetching
Lazy Loading Option for Fast Speed
Async JavaScript for Improved Page Speed
Remove ver Parameters for Better Browser Cache
Optimize WooCommerce Scripts
Is Schema Worth It?
Upload Logo Image Easily
Upload Your Own Favicon
Set Icons for Apple Devices from Backend
Icon Upload Option for Windows Phones
Built in Section for Tracking Codes
Integrated with FeedBurner
Enable/Disable Responsiveness
Multiple Pagination Options
Built in AJAX Search Option
100% Fluid Responsive
RTL Support
Show WooCommerce Products
Multiple Homepage Styles Included
Select Big Image for First Post
Enable or Disable Homepage Slider
Choose Category for Slider
Choose Number of Posts On Homepage
Create a Custom Slider
Select Featured Categories for Homepage
Customize Homepage Mega Info
much more..
3. Ad-Sense WordPress Theme
If you have even wanted to earn more money from ads on your website, Ad-Sense theme is the one you should get. It is the most ad friendly theme in the market and comes with features like better ad management, ad placement, ad blocker detection and content locking for ad block users. Simply put, this theme helps show ads to users who don't want to see the ads.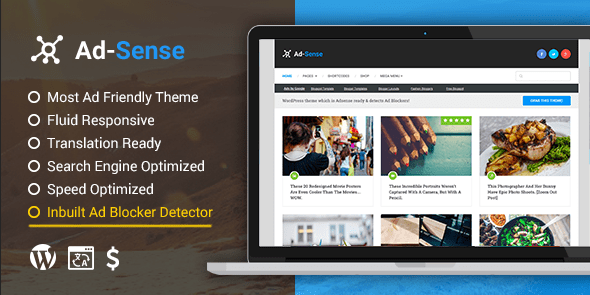 This theme detects use of ad blocking software on a visitor's device and that triggers a popup asking them to stop blocking ads. You can even set it up to hide your content until they whitelist your website. This is perfectly logical and will result in increased ad revenue on your website.
Simply turn on ad-detection and let the theme do its thing.
Ad-Sense Theme Setup Tutorial
In addition, the theme has optimized ad locations built-in and many other ad management options so you can really maximize your earnings.
4. Coupon WordPress Theme
Coupon WordPress Theme is a beautiful and professional theme built from the ground up for the coupon business. Impress your visitors and convert more sales with this highly professional and fully customizable theme. The best theme for selling coupons, full stop!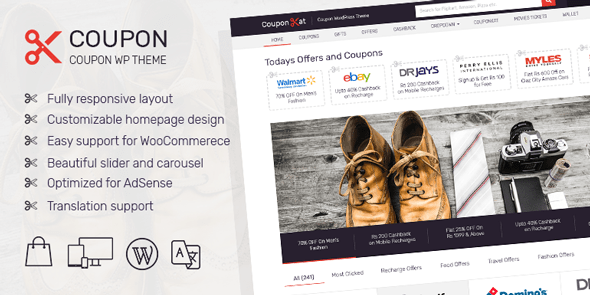 Coupon websites are popular for precisely this reason. There are multi-billion dollar businesses like Groupon.com that make millions of dollars by sharing deals or coupons on their website.
It requires a minimum investment, and when you have a coupon theme to power your new website, the startup cost is lowered to a negligible amount.
Coupon theme looks uniquely impressive and works beyond expectations. It has an excellent homepage design and an even better coupon details page.
It is 100% SEO Ready and works with WooCommerce like a charm. We have added a custom coupon carousel to showcase the best deals, and we have added a nice custom slider as well.
You can create a store selection for coupons on the homepage or have a coupon archive for easy navigation.
Start with local stores and once you have gained enough traction thanks to the Coupon Theme's included tools, move to international deals for maximum profit and commissions.
.
5. Crypto – A Bitcoin & Cryptocurrency WordPress Theme
Crypto is the perfect theme for cryptocurrency based blogs. Apart from regular blogging features, Crypto has many specific features for cryptocurrencies that make it the most sought-after cryptocurrency theme by crypto bloggers, traders, commentators, and spectators. It provides multiple ways of monetization and can be used to cover blockchain, BitCoin, AltCoins and any other topic from the cryptocurrency world.
Features of Crypto – A Bitcoin & Cryptocurrency WordPress Theme
Unique Design
Crypto theme is unique in many ways. It's designed from the ground up to fulfill the needs of cryptocurrency blogs, but it can also be used for many other niches. Our engineers spent a lot of time on the drawing board to make sure that Crypto satisfies the needs of every blogger.
Show Live Coin Price
The most critical piece of information in any financial market is the price. Crypto has the capability of displaying live coin prices for various cryptocurrencies. Using this feature, you can cover news, conduct analysis, and provide your users with accurate and timely information about the crypto world.
Create Dedicated Coin Page
There are over 1300 cryptocurrencies in the world right now, and covering them all can be overwhelming for your readers. Crypto lets you create dedicated pages for individual crypto coins, using which you can consolidate all the important information, historical data, news, and trends for the coins in the same place on your website.
Show Historical Price Data
Winston Churchill said, "The farther back you can look, the farther forward you are likely to see.". That is true of the financial market as well, including cryptocurrencies. Crypto's historical price data feature lets you share the price history of cryptocurrencies, using which you showcase essential trends and share your analysis with your readers.
Compare Coin Against Different Currencies
We don't know how cryptocurrencies will be priced in the future, but currently, they are priced against regular currencies. The Crypto theme allows you to compare different crypto coins against different currencies. You can use this feature to conduct analysis, provide commentary, and predict trends for your readers.
2 Dedicated Widgets for Coins
Widgets are a great place to share information with readers. Crypto is designed with many custom widgets but there are 2 dedicated widgets for Crypto which will help users to convert coin price and show historical data.
Best Theme For Bitcoin and ICO
The intention behind creating the Crypto theme was to give cryptocurrency enthusiasts the perfect theme to write about their passion. Using Crypto, you can create a blog about an individual cryptocurrency, or cover the entire spectrum of cryptocurrencies with ease.
WooCommerce Compatible
Crypto isn't only capable of blogging. You can easily create an online store with WooCommerce and Crytpo will work perfectly with it as well. You can use the WooCommerce integration to sell cryptocurrency based products or anything else with ease.
Drag and Drop HomePage Sections
The homepage is the most important page of your website, but making it engaging and keeping it fresh is a challenging task. The Crypto theme features drag and drop sections that eradicate this issue permanently. Using this feature, creating new homepage designs is as easy as clicking your mouse and dragging.
2 Homepage Post Layouts
To keep your readers engaged, Crypto features 2 distinct post layouts for homepage. You can choose just one of the styles for all your posts, or use the different styles for different homepage sections.
API Key Integrated
A theme designed for cryptocurrencies wouldn't be complete if it could not display the pricing for various cryptocurrencies. Crytpo is integrated with many APIs using which you can show the real-time pricing of a variety of cryptocurrencies on your website.
Responsive For All Devices
Cryptocurrency enthusiasts are not reading about the latest coins only on their desktops. They are using their phones, tablets, and other devices to stay up to date with the fast-changing crypto world. The crypto theme uses our optimized fluid responsive framework which ensures that Crypto works perfectly on devices of all sizes. All the elements of the theme resize intelligently to provide the perfect user experience for all devices.
ICO Archive
A new crypto coin doesn't just come into existence, an ICO (Initial Coin Offering) is what helps launch a cryptocurrency. Crypto theme can list ICO details with its ICO custom post. You can also display the information about all the ICOs on a single page using the ICO archive capability built into Crypto.
Featured Slider
Crypto has an inbuilt, feature rich slider which you can use to grab users' attention. You can use Crypto's slider to feature any content like your internal posts, new currency launches, breaking news, and more.
SEO Ready
Millions of people are searching for cryptocurrency related things on search engines. With Crypto's SEO prowess, you can make sure that you are part of the action. We have designed Crypto to be SEO Ready by following Google's and other search engines' technical guidelines.
Speed Optimized
Traffic is useless if your theme doesn't load fast enough for your users' to stick around. We have designed Crypto with clean, bloat-free code. Hundreds of man-hours have gone in to make Crypto as fast as possible, even under extreme visitor load.
AdSense Optimized
You can make money with Crypto in various ways, including ads. Crypto supports and is fully optimized for AdSense, which is the biggest ad network in the world. We have set the ad areas where they will generate the most clicks while not affecting the user experience in any way.
Parallax Scrolling
Parallax scrolling can create an immersive and engaging experience on your website. Crypto fully supports parallax scrolling for blog posts and home pages, using which you can create header images or featured images with parallax scrolling.
Advanced Options Panel
We made sure that customizing the Crypto theme is a delight by including our friendly and advanced options panel with the theme. Using the options panel, you can customize almost everything in Crypto including the colors, changing the post options, export or import your configuration, and more.
Clean Code
MyThemeShop focuses immensely on creating themes that are made with clean, optimized, and well-commented code. The Crypto theme is no exception to that, and we have spent countless hours in optimizing Crypto for exceptional performance.
Translations Ready
Cryptocurrencies are currencies without boundaries, and your visitors will be global as well. The Crypto theme is ready to serve visitors from around the globe with its translation readiness. Translating the theme is easy, and all you have to do is edit the provided language files.
All Google Fonts Included
Google Fonts gives you hundreds of fonts to choose from on your website while maintaining performance standards. It's no surprise that we include the entire font library from Google Fonts in Crypto so that you can choose the perfect font combination for your website.
Unlimited Color Options
You can morph the Crypto theme into any look you prefer with unlimited color options. You choose colors for a variety of elements and style them in many ways. Choosing colors for any element is easy and quick through our friendly control panel.
Unlimited Background Options
Apart from colors, you can also customize Crypto's backgrounds. You can choose from solid colors, or use one of the included background patterns. If that doesn't give you a look you desire, you can even upload a custom background of your choice.
Shortcodes
Apart from the theme, Crypto also allows you to style your content in many ways with our custom shortcodes. We include many custom made shortcodes that you can use to create stylish buttons, lists, dividers and more to organize your content and make it more engaging.
Ajax Loading
We are obsessed with speed, and one of the ways we achieved high-speed loading in Crypto is using Ajax loading. Ajax is a technology which can help load content in the background without refreshing the page. Using this technology, we have made Crypto's loading times lightning fast while maintaining a positive user experience.
Author Box
Building a strong personal brand is the motivation behind many blogs, and Crypto is here to help. Apart from providing many options to style the content and theme, Crytpo also gives you access to a beautifully designed author box which you can use to display your bio attractively.
Off Canvas Mobile Menu
Mobile users will make up a large chunk of your readers, and it's important to serve them in the best way possible. To make the best use of the limited mobile space, Crypto shifts the navigation menu off the screen. The menu is arranged vertically and still easily accessible with a simple touch for the perfect user experience.
WP Review Pro Compatible
With Crypto, you can review coins, currencies, exchanges, and more in style because of the complete compatibility of Crypto with WP Review Pro. Using WP Review Pro with Crypto, you can create stunning, SEO friendly review boxes that attract eyeballs and attention.
WP Subscribe Pro Compatible
When a visitor lands on your website, it's an opportunity to convert them to a long-term reader. Using Crypto's compatibility with WP Subscribe Pro, you can create and embed high converting subscription boxes on your website that will consistently grow your email list.
WP Mega Menu Compatible
There is so much happening in Crypto world that it can be hard to follow and process. Using Crypto's compatibility with the WP Menu Menu plugin, you can organize your content in a way that your users feel most comfortable with. You can also use WP Mega Menu Pro's stylish menus to highlight the most important content on your website.
Advanced Typography Options
Fonts are an integral part of any website. Keeping this in mind, we designed Crypto with advanced typography controls. Using our easy to use control panel, you can customize the fonts of almost all the elements on your site. Apart from fonts, you can also set the colors and sizes of the respective elements.
Import or Export Option
We built Crypto with advanced Import Export options so you can experiment with Crypto's settings without the worry of breaking anything on your website. You can backup your settings in a single click and even restore them as easily. Using this feature, you can try out a variety of new settings on your website or even transfer your existing settings to a new setup of Crypto.
Lazy Loading of Images
Lazy loading is another useful technology that helps in improving load times dramatically. We have built Crypto to natively support lazy loading so that you can enjoy blazing fast performance without the use 3rd party plugins.
Related Posts Feature
Crypto's beautiful design and SEO power are bound to attract visitors, but it's your job to keep them reading more. One of the tools that you can use to achieve this is the related posts feature. Using this feature, you can insert relevant content just below your posts, so your readers read multiple posts on your website.
Font Awesome Icons Included
Using icons with your posts is an easy way to make them beautiful and engaging. Crypto includes the vast set of icons from Font Awesome, which makes hundreds of icons available to you in a single click. You can even customize the icons with unlimited colors and sizes to use in multiple creative ways.
4 Types of Pagination
Other themes might ignore pagination, but not Crypto. We have included 4 different types of navigation in Crypto so you can give your users multiple ways to navigate content on your website.
Multiple Custom Widgets
Widgets are useful blocks that you can insert in the widget enabled areas of your website. Crypto ships with many custom-made widgets, each of which fulfills a specific purpose. Using WordPress's widget drag and drop, you can insert any widget to the widget enabled area in just a few seconds.
Child Theme Support
If you like to dive in and customize your themes before using them, you will be happy to know that Crypto fully supports child themes. You can easily create a child theme and make modifications that will be retained, even after theme updates.
One Click Install
All our themes are famous for installing in a single click and Crypto is no exception. Simply upload the theme zip file and hit install to complete Crypto's installation.
One Click Update
We regularly update Crypto to introduce new features, improve speed, and have better security. Using our theme and plugin manager, you can update the Crypto theme in a single click.
HD Video Tutorial
Crypto is loaded with features, but we don't want them to be overwhelming for you. To help you understand and navigate Crypto's features better, we ship Crypto with high definition narrated tutorials. These tutorials explain Crypto's features in detail, and also discuss common issues and how to solve them.
Extensive Documentation
Good documentation is a critical part of any software product. It's an invaluable tool for users and developers alike. We include extensive and well-organized documentation of Crypto with every installation.
356x24x7 Direct Support
Our support for our products is second to none, and the testimonials prove it. When you buy the Crypto theme, you are backed by the assurance of our WordPress experts who are available 24x7x365 to assist you with any issues you might have.
6. PointPro WordPress Theme
Crypto is the perfect theme for cryptocurrency based blogs. Apart from regular blogging features, Crypto has many specific features for cryptocurrencies that make it the most sought-after cryptocurrency theme by crypto bloggers, traders, commentators, and spectators. It provides multiple ways of monetization and can be used to cover blockchain, BitCoin, AltCoins and any other topic from the cryptocurrency world.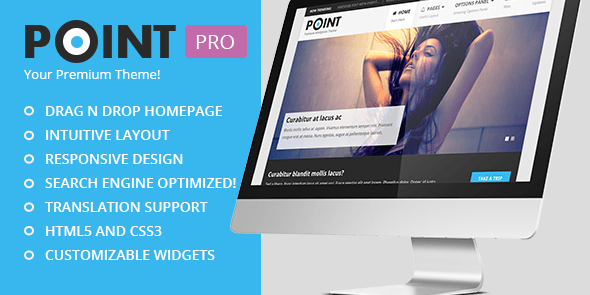 Get A Stunning Look & Flawless Performance with PointPro WordPress Theme
FAQ's
Can I use a MyThemeShop theme on more than one site?
Mythemeshop offer various licensing options you can choose from. You can choose between a 1-site license, 3-site license, or unlimited site licenses. You can use our themes or plugins on the same number of websites that you buy the license for.
Can I customize the theme?
Mythemeshop themes all come with an options panel that allows you to easily customize your theme. You can also make your own code edits or design edits using the included Photoshop PSD files (included with Extended plan). You don't need to credit or link mythemeshop back.
Will the themes work with third-party plugins?
Yes, Mythemeshop themes are compatible with most third-party plugins. They included the most commonly used features in their themes to further assist with this. They cannot provide support for third-party plugins or tools.